The Native American Agriculture Fund is conducting a research study to gain a better perspective on the issues of food insecurity and hunger in Tribal households as a result of COVID-19. This survey will be available until April 30th.
During that time, we are hoping to collect a large number of responses from Tribal members and communities. At the end of the survey collection period, we will analyze the data and provide a report highlighting the insights we gain from our willing participants.
This survey will keep your identity anonymous and takes approximately fifteen minutes to complete. The Native American Agriculture Fund will maintain the data collected and use it to inform the further strengthening and support the critical role Native agriculturalists have in feeding our people.
Thank you for taking the time to contribute to this survey!
If you have any questions please contact Valerie Segrest (Muckleshoot), Senior Program Officer at vsegrest@nativeamericanagriculturefund.org
Fayetteville, Arkansas- A decade ago, the Keepseagle v. Vilsack case was originally settled. The case was brought by Native farmers and ranchers throughout the US to address a decades long history of discrimination in lending and in the servicing of loans by USDA.  The settlement of the case had many aspects including the creation of the Native American Agriculture Fund. But the Fund cannot address all the issues the federal government can.
As the COVID-19 pandemic sweeps across the land and creates emergencies in its wake, we see that systemic and persistent barriers continue to leave people out. When USDA deployed boxes of food, Tribal governments and Native food businesses were all but left out of the program. Nearly 97% of USDA-deployed resources went to non-BIPOC (Black, Indigenous and People of Color) agriculturalists. These issues need to be addressed.
We need meaningful and deliberate action. The burden of debt is hitting every corner of our economy. But for BIPOC farmers and ranchers it is an emergency made even more dire because of the historic barriers faced in accessing government programs. Technical support is important to all farmers and ranchers but is even more important to those who have been left out of those resources for decades. We need to think more deeply, act more deliberately, and ensure people have a meaningful opportunity to receive the support they need to stay on the land and engaged in agriculture.
Agriculture in the US is going to need every single person we can find to embrace the act of feeding our people.  We need the agriculturalists of tomorrow to be as diverse as our country. Most farmers and ranchers have absolutely no problem helping out their fellow farmers and ranchers, whether they live down the road or across the country. Most often, the fights against change come from folks who do not work the land. Those whose passion is food and agriculture know that BIPOC farmers and ranchers should be just as supported as others.
We need BIPOC farmers and ranchers fully involved in the acts of feeding us all.  Without them we are weaker. We need to do everything we can to address injustices and unfairness in these systems and set things right.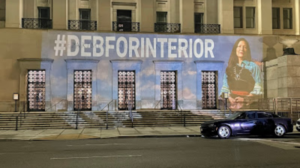 (Monday evening in Washington, D.C., IllumiNative put up a projection of Rep. Deb Haaland on the C Street entrance of the Department of the Interior. (Photo courtesy IllumiNative)
Fayetteville, Arkansas- The Native American Agriculture Fund lends our full support for the confirmation of Congresswoman Deb Haaland of Laguna Pueblo on her confirmation to be Secretary of the Interior. If confirmed, Haaland will be the first ever Native American woman to serve as a cabinet secretary.
Haaland has deep roots in Native agriculture and understands the intricacies of producing food on Tribal lands. As a small business owner, she knows what our Native farmers and ranchers face when bringing their goods to market. She recognizes the role the Bureau of Indian Affairs plays in creating economic development on Indian Reservations and how food can build rural economies. With Haaland at the helm at the Department of the Interior, the federal government will have a leader with the lived experience to lead our rural economies into a brighter future.
"Deb Haaland is an incredible choice to lead the Department of the Interior," said Janie Hipp (Chickasaw), CEO of the Native American Agriculture Fund. "She brings decades of solid and informed experience to the position and knows what it takes to build strong, local food economies that will sustain our communities and feed our people."
###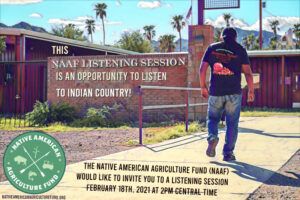 The Native American Agriculture Fund (NAAF) would like to invite you to a listening session on February 18th, 2021 at 2pm Central Time. This inagural session begins a series of sessions which will be held the 3rd Thursday of every month throughout the year. This listening session is an opportunity for NAAF to listen to Indian Country. In addition, we will have an opportunity for participants to ask questions regarding the NAAF organization. This is open to the public.
REGISTRATION IS LIMITED, SO PLEASE REGISTER ASAP
Additional Listening Session Dates:
April 15th, 2021
June 17th, 2021
August 19th, 2021
October 21, 2021
December 16th, 2021
Fayetteville, Arkansas-The US Department of Agriculture announced it was temporarily suspending debt collections and foreclosures for distressed borrowers under programs administered by the Farm Service Agency due to the national public health emergency caused by COVID-19.
"This is an important step that can help alleviate significant levels of stress on the agriculture sector – and more importantly on those who get up every morning to feed the rest of us," said Janie Hipp (Chickasaw), CEO of the Native American Agriculture Fund. "This action will give our nation's agricultural producers the breathing room they need to continue on in the midst of this global pandemic. Our rural and remote reservation and agricultural communities in Indian Country will rest a little easier because of this important step taken by USDA."
"In the past, we had to push hard on USDA to consider such actions to help producers," Hipp continued. "Today, we are seeing USDA proactively take these steps to give folks the breathing room they need to readjust their operations and survive to farm and ranch another day. We look forward to updates in the future and other actions like this to proactively help our nation's farmers, ranchers and dedicated food champions."
###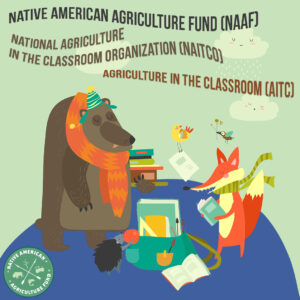 Fayetteville, Arkansas- The Native American Agriculture Fund (NAAF) is pleased to announce that it has recently partnered with the National Agriculture in the Classroom Organization (NAITCO) and its Agriculture in the Classroom (AITC) program members to strengthen pre-kindergarten (Pre-K) through 12th grade agricultural literacy outreach to educators serving Native American communities.
NAAF will work with NAITCO to increase the number of teachers who are working with Native students who will attend the 2021 NAITCO conference "Fields of Dreams" June 28-July 1 in Des Moines, Iowa. The conference provides important professional development opportunities for teachers throughout the country. The teachers who will come to the conference will hear from Dr. Anton Treuer, professor of Ojibwe at Bemidji State University, who has authored many books throughout his career. His career has been dedicated to equity, education, and cultural work; his keynote address will be: "Transformative Teaching: How to Infuse Equity Tools in Your Classroom Delivery."
NAAF's partnership with NAITCO will also encompass working on Native farming articles for the AgMag publication that is part of Agriculture in the Classroom work that reaches Native communities. Focusing on creating unique opportunities to reach Native communities through teacher professional development and special publications can have the combined impact of strengthening NAITC's work in Native communities.
"With partners like the Native American Agriculture Fund, we are able to reach more teachers and more Native students, aiding NAAF in its efforts to create Native American youth leaders in the agriculture sector," said Tammy Maxey, president of NAITCO and programs director of Virginia Agriculture in the Classroom.
"Educating youth about the value and role of agriculture, and careers in agriculture in their communities is critical," said Janie Simms Hipp (Chickasaw), chief executive officer of NAAF. "We are pleased to work with NAITCO and assist in our joint efforts to encourage more agriculture-focused educational resources available to Native K-12 students and to assist in supporting teachers of Native students, who are such a critical link."
NAITCO is a non-profit organization made up of AITC programs in 50 states including the District of Columbia, Puerto Rico and the U.S. Virgin Islands. Its mission is to educate teachers and students in Pre-K-12 about the importance of agriculture by incorporating agricultural concepts into classroom instruction. NAITCO and its AITC state program members reached 87,000 teachers and 8.2 million students in 2019. To learn more about NAITCO, please visit 
www.agclassroom.org
.
Fayetteville, Arkansas-The Native American Agriculture Fund (NAAF) congratulates the Akana Group, Inc. (Akana) and John Deere as they work together to provide government sales business opportunities for small businesses and Native American business enterprises.
Akana is a certified Native American owned small business enterprise specializing in connecting Native American governments and their related enterprises with important opportunities to access equipment purchasing offered by John Deere. Native American governments and many of their current and emerging businesses are engaged in more and more agricultural business activities that not only provide diversification of their business into the agriculture sector, but also produce food for use by their communities.
Akana has deep knowledge of various equipment categories important to Tribes, including agriculture, construction, forestry and lawn care. Akana's relationship with John Deere is already providing important third-party assistance to connect Tribes to meet their equipment needs. Part of the agreement between Akana and John Deere is to leverage the strength of the John Deere dealer network to assist with both the delivery of any new equipment purchase, as well as the parts and service support needed to make the customer successful for the long term.
Agriculture continues to grow in Indian Country. NAAF, in its unique role as the largest philanthropic organization providing grant funding opportunities in support of Native farmers and ranchers, is already seeing many Tribes submit applications for scaling up their existing operations, finding new markets and making more efforts to achieve food security and economic diversification. With over 50 million acres of land in Indian Country already engaged in agriculture production, and those numbers growing, the need for equipment continues to grow. Many farmers are finding that even within a global health crisis and in the face of various disruptions in supply chain, the demand for more food production is leading to increased purchases in equipment or taking the next step to upgrade existing equipment.
Several months ago, NAAF and Akana began discussions, which have now broadened to include John Deere. NAAF knows the importance of making the right equipment decision, and the ability of Tribal governments and their affiliated entities to access pre-negotiated discount rates for equipment purchases will greatly increase opportunities for investment and can provide the edge needed.
"We look forward to working alongside the Akana Group and John Deere to bring this important opportunity to Indian Country leadership. Agriculture investments are on the rise, and we have ongoing needs for forestry, construction and turf equipment. We are thrilled to see where these new friends of NAAF will take us," says Janie Hipp, CEO of NAAF.
Hipp's own grandfather had a small tractor dealership in Southeast Oklahoma during her youth and she remembers how important equipment is to the success of new, beginning or well-established farms and ranches.
"Equipment needs never end," says Hipp. "Many of the first conversations I had with Native farmers and ranchers in the early days of NAAF were around their equipment needs. If Tribal governments and their affiliated organizations can be the bridge to improving Indian Country's access to equipment that can in turn support our continued commitment to our agriculture economies, we will all be the better for it. We look forward to deepening our relationship with John Deere and to explore all opportunities before us to make sure that Indian Country has access to the equipment it needs."
"It is with great excitement to learn of this relationship between NAAF, the Akana Group and John Deere," said Dr. David Yarlott, President of Little Big Horn College. "This opens up opportunities to Indian Country in the agricultural area, which includes Tribal Colleges and Universities. Growing up farming, and now ranching, I have first-hand experience in the challenges of having access to agricultural equipment. Being a President of a 1994 Land Grant Tribal College, I look forward to how we might be able to assist our local Native Farmers and Ranchers!"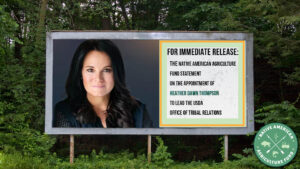 Fayetteville, Arkansas- The Native American Agriculture Fund congratulates Heather Dawn Thompson on her appointment to serve as the Director of USDA's Office of Tribal Relations (OTR). USDA's OTR is a critical office within USDA that serves a wide range of functions, most importantly, to bring issues of Native agriculture to the Secretary, but also issues of rural infrastructure, markets, trade, conservation, forestry and so many more that directly impact Indian Country.
"As a former Director of the Office of Tribal Relations (OTR), I know how critical OTR is to all Native Nations – to Native farmers and ranchers – and honestly, how important the office is to the entirety of USDA," said Janie Hipp (Chickasaw), CEO of the Native American Agriculture Fund. "There are so many roles that USDA plays in rural America and in Native communities; there are also so many needs that Indian Country has of USDA. The OTR acts as that central point where Native Nations connect and USDA connects back to us."
"Heather has a unique blend of experience and background that make her an excellent choice to lead OTR," Hipp continued. "NAAF will stand behind her and work with her and Secretary Vilsack to achieve the next level of success in Indian Country. We are thrilled she will embark on this new challenge and know that she will work tirelessly on behalf of all Native peoples throughout the US."
Fayetteville, Arkansas– On behalf of the Native American Agriculture Fund, I am absolutely thrilled to offer my complete support of Dr. Jewel Bronaugh to serve as Deputy Secretary of USDA.  Her nomination to serve as Deputy is truly historic – she will be the first African American woman to serve in that capacity. More importantly, Dr. Bronaugh is beyond well-equipped to serve.
Dr. Bronaugh is an accomplished leader on many levels. Serving as Commissioner of the Virginia Department of Agriculture and Consumer Services and the Dean of the College of Agriculture at Virginia State University are significant roles within the agriculture sector and positions not often held by women or women of color.  She led the Virginia Farm Service Office in the Obama-Biden administration which gives her a very strong knowledge of the financial issues and stress facing the nation's farmers and ranchers. Her nomination excites me because we share a commitment to engaging our next generation of agriculture producers. She also understands the importance of access to food within vulnerable communities. Her leadership is inspiring, and I cannot wait to help her in any way I can.
To those who say that previous administrations have not gone far enough to address issues of racial inequity and systemic problems within USDA, or who think that the leaders selected by our President and Vice President-elect aren't going to push hard enough for change, I say this: let's get behind our new team – get them confirmed – and get involved in doing what it takes to help create the future we all want to see. We all have a lot of work to do. I am very excited to support Dr. Bronaugh. I know she and Secretary Vilsack will give it their all.
###
Fayetteville, Arkansas- The Native American Agriculture Fund (NAAF) would like to extend our heartfelt congratulations to Congresswoman Deb Haaland (Laguna Pueblo) in her historic nomination to serve in the Biden-Harris administration as our next Secretary at the Department of the Interior (DOI). We applaud Congresswoman Haaland's historic nomination as the first Native American woman to be nominated to a Cabinet level position.
We are confident that in her new role as Secretary she will not only uphold the important trust responsibilities to Tribes but will help Indian Country recover and rebuild stronger than ever from the pandemic that has impacted our communities so deeply. From our unique perspective at NAAF, we look forward to her leadership and her vision in this new role as part of the new Biden-Harris administration.
We look forward to working with her entire team to ensure Native food systems and agriculture investments by Tribes and Native farmers, ranchers and food people are protected today and secured for future generations. DOI's work spans so many important areas to our country. We are confident she will work for a better future for Indian Country and will serve our country in a good way as the first Native person to lead the Department of the Interior.
###