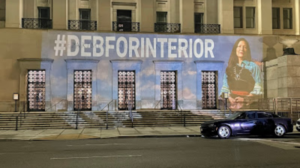 (Monday evening in Washington, D.C., IllumiNative put up a projection of Rep. Deb Haaland on the C Street entrance of the Department of the Interior. (Photo courtesy IllumiNative)
Fayetteville, Arkansas- The Native American Agriculture Fund lends our full support for the confirmation of Congresswoman Deb Haaland of Laguna Pueblo on her confirmation to be Secretary of the Interior. If confirmed, Haaland will be the first ever Native American woman to serve as a cabinet secretary.
Haaland has deep roots in Native agriculture and understands the intricacies of producing food on Tribal lands. As a small business owner, she knows what our Native farmers and ranchers face when bringing their goods to market. She recognizes the role the Bureau of Indian Affairs plays in creating economic development on Indian Reservations and how food can build rural economies. With Haaland at the helm at the Department of the Interior, the federal government will have a leader with the lived experience to lead our rural economies into a brighter future.
"Deb Haaland is an incredible choice to lead the Department of the Interior," said Janie Hipp (Chickasaw), CEO of the Native American Agriculture Fund. "She brings decades of solid and informed experience to the position and knows what it takes to build strong, local food economies that will sustain our communities and feed our people."
###